During the second release of Motomaker, it was decided that the customization tool should be relocated to Motorola.com; allowing users to customize, learn more and place a purchase all on the same page. Users' top designs were showcased and ranked on the Moto X gallery.

Art Direction, Design & UX — Razorfish, 2014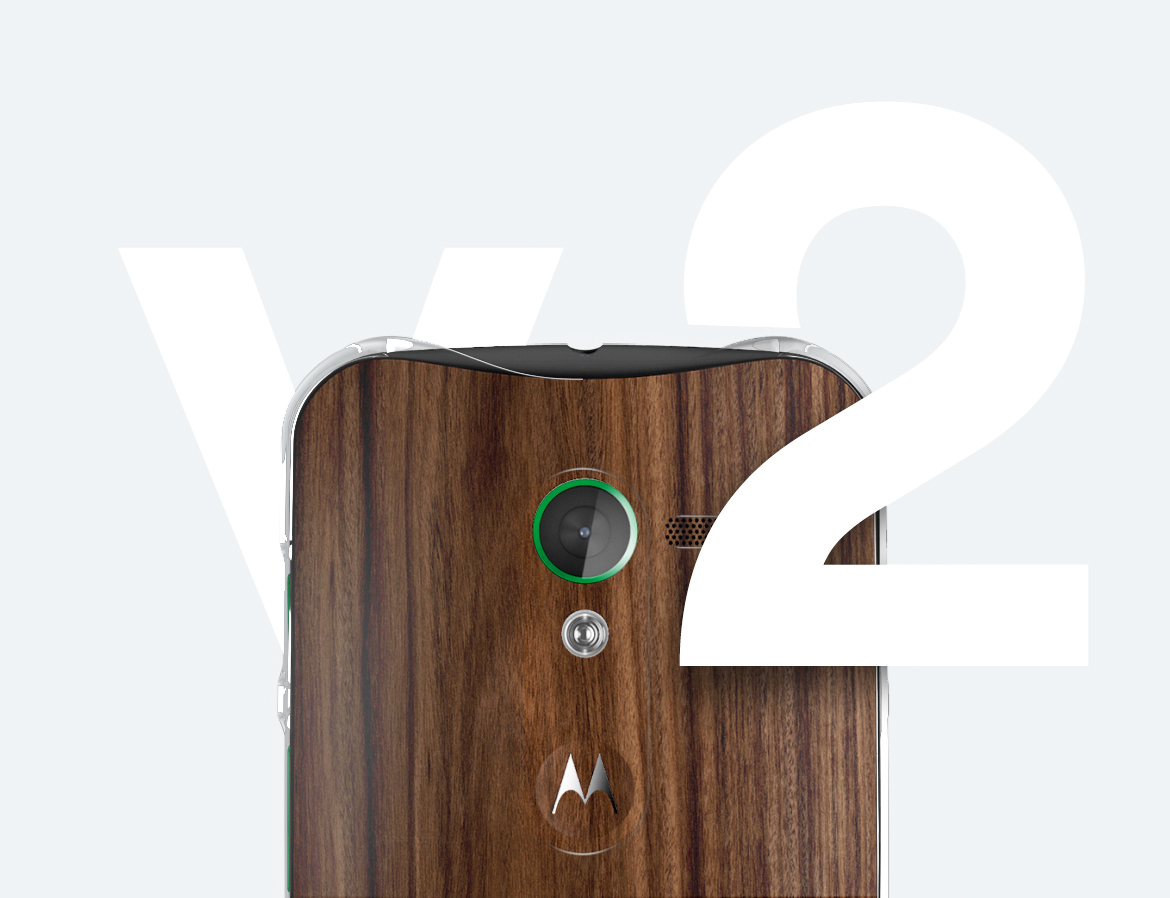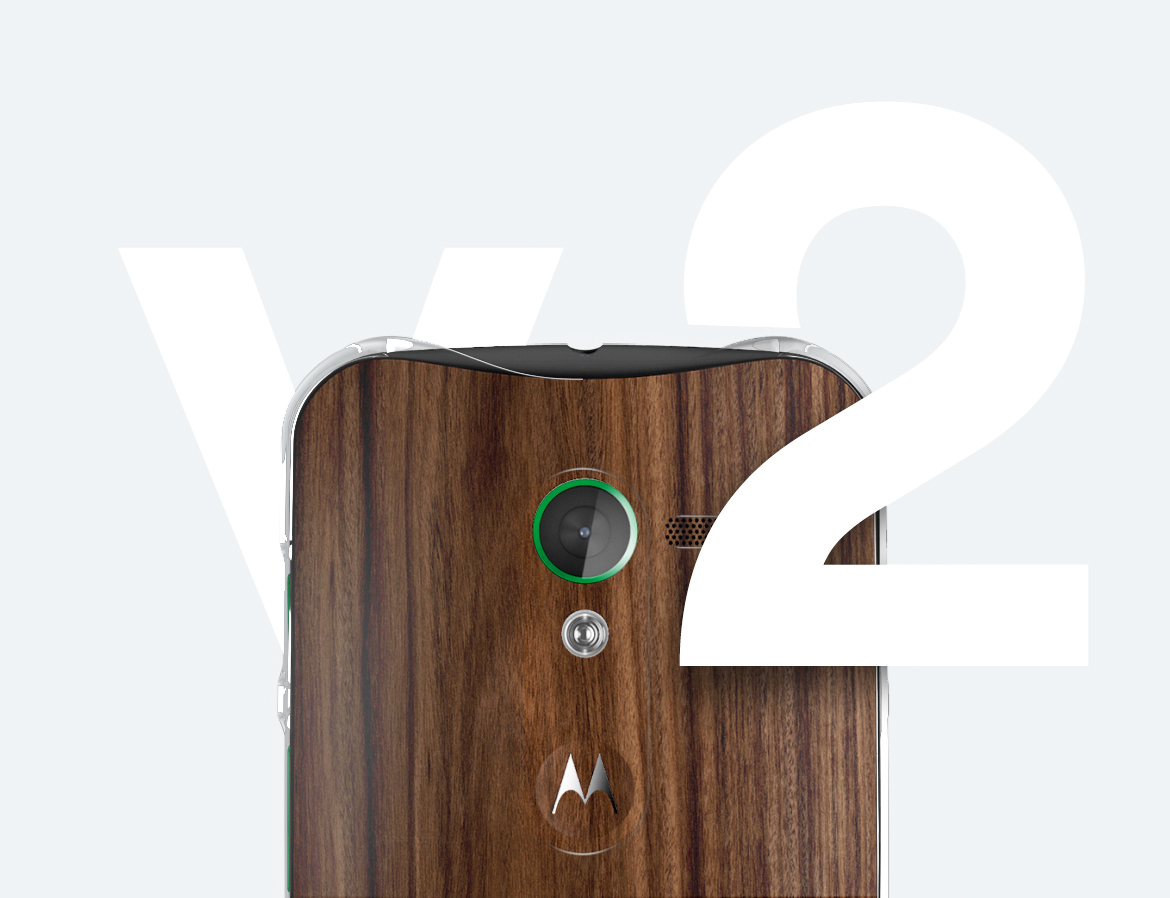 We adjusted the interface structure to not only adapt to its new home but to improve user experience.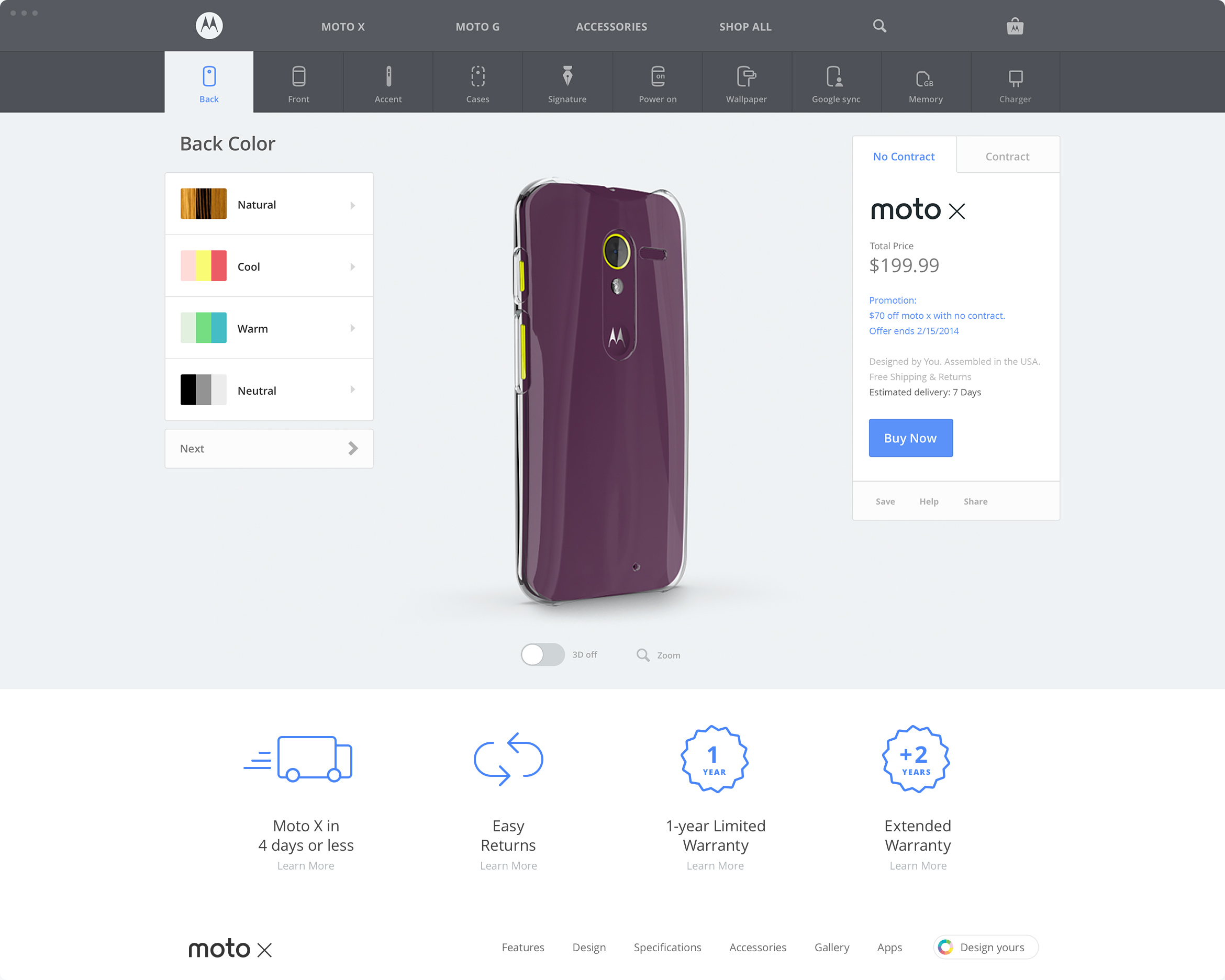 Users can submit their design to be featured in the Moto X gallery. Top designs are ranked on the trending page and categorized based on location.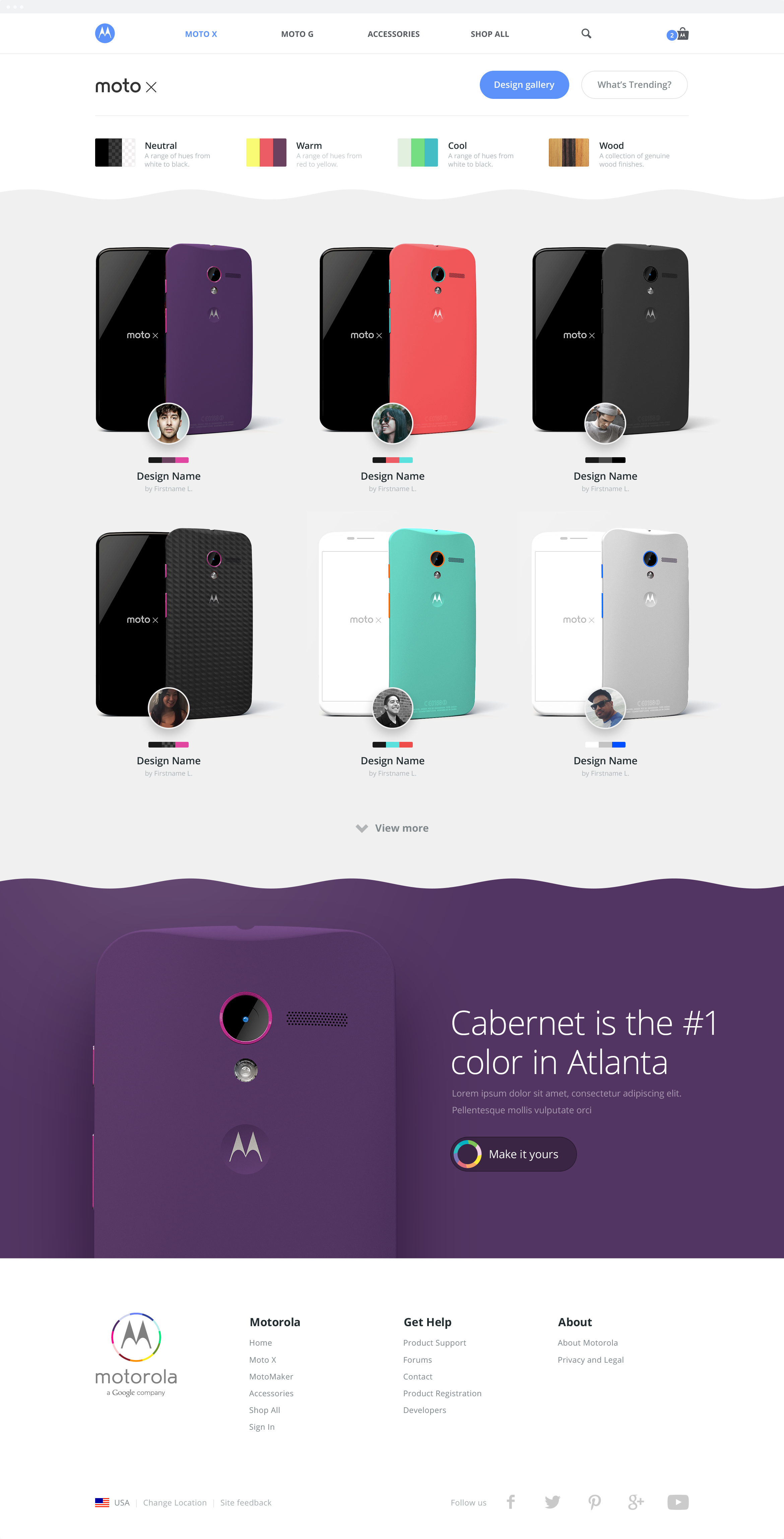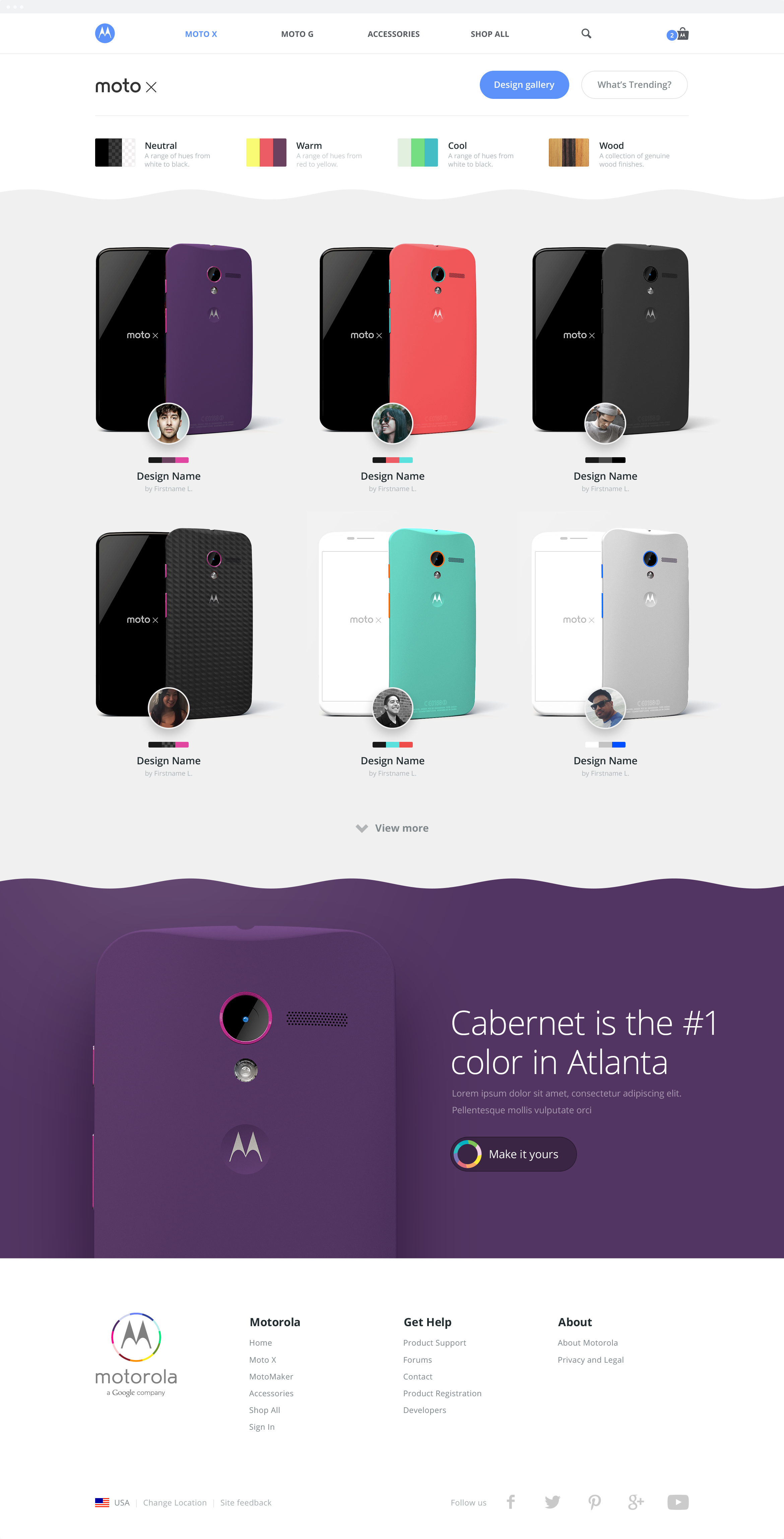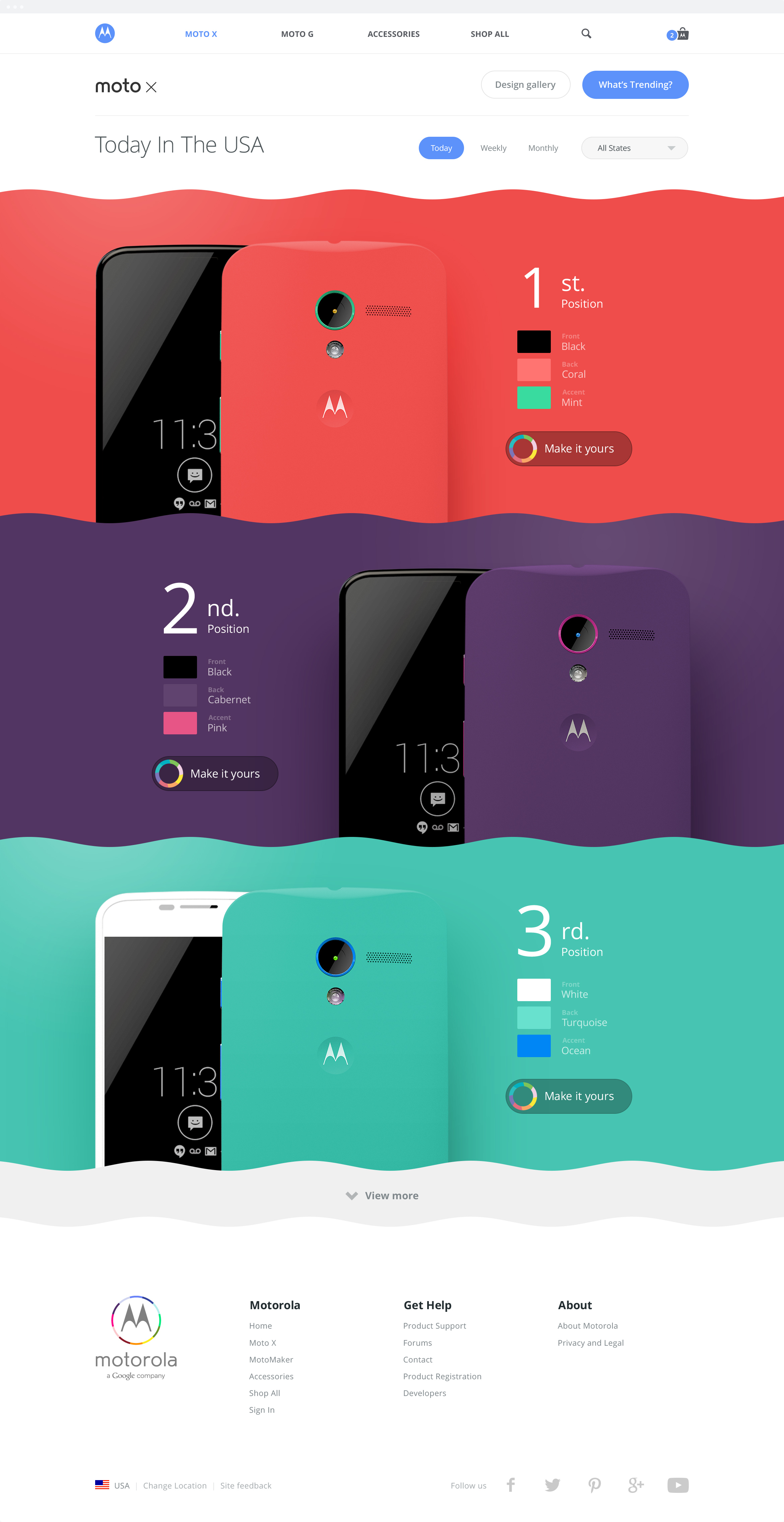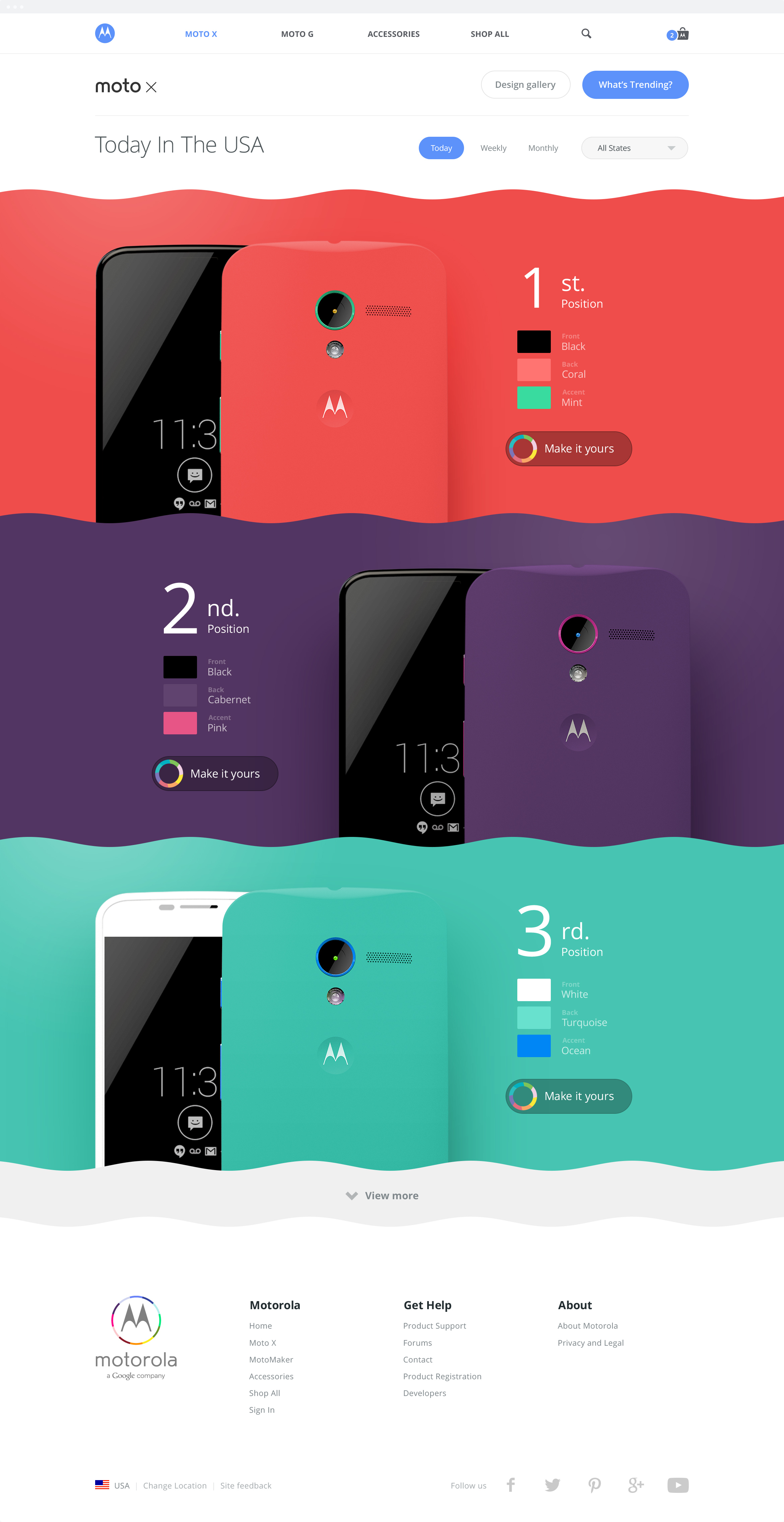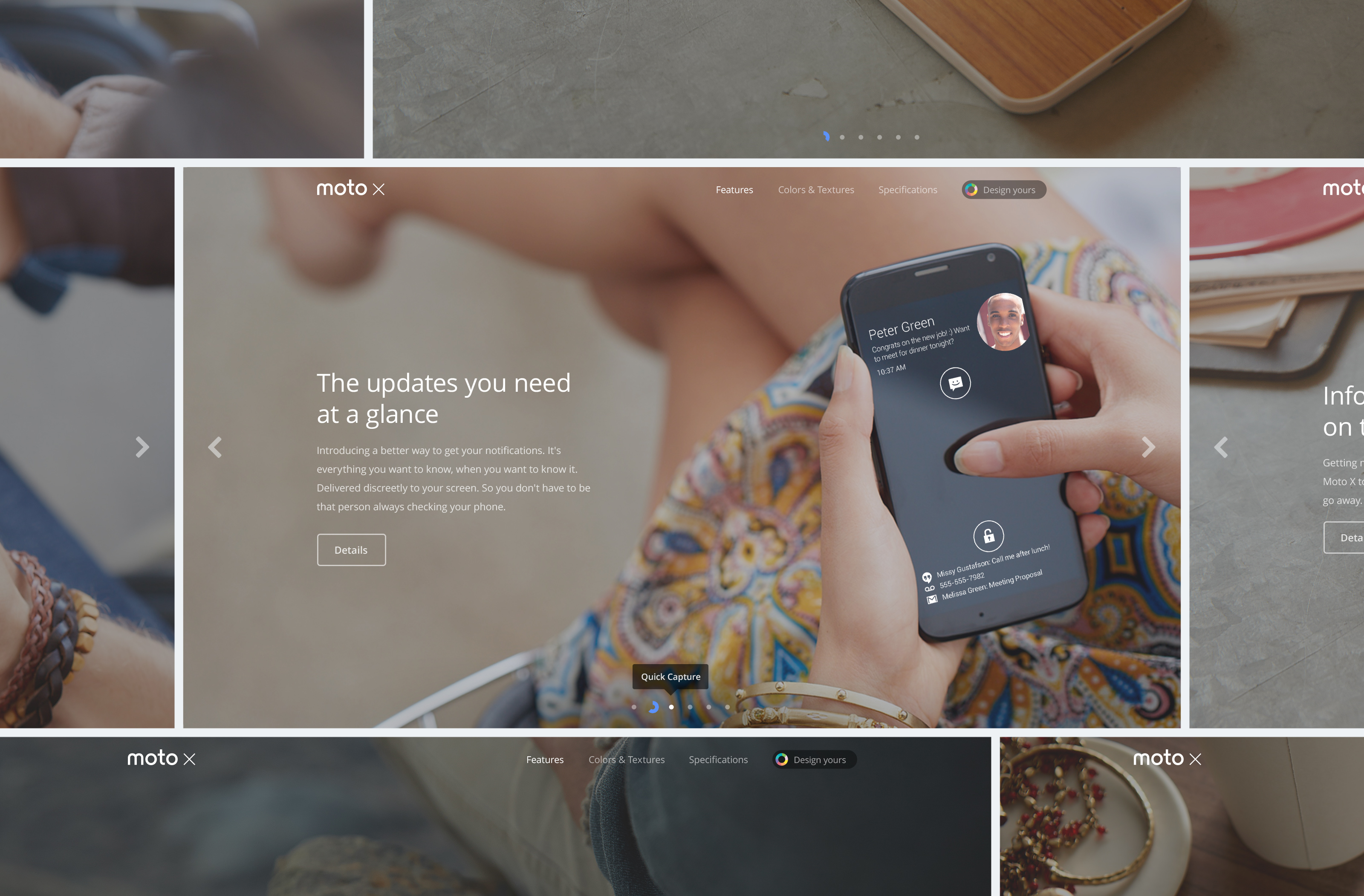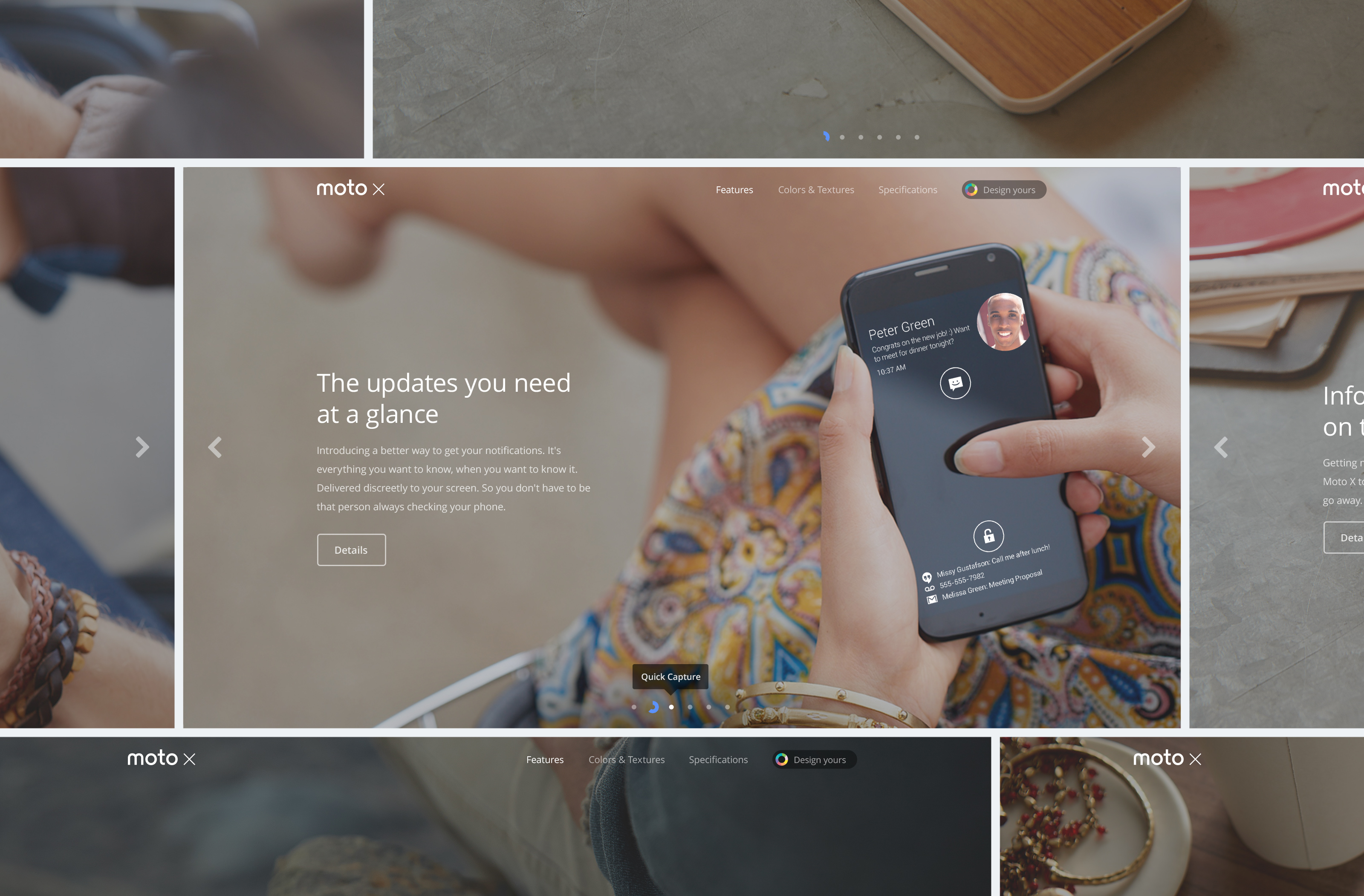 The UI system & library were created with expandability in mind. New colors, materials, features or sections can be added without breaking the site's structure. The UI simplicity adds a touch of playfulness while engaging user interaction. For the time being, Motomaker solely supports Moto X, however it's design could function with any future Motorola customizable phone.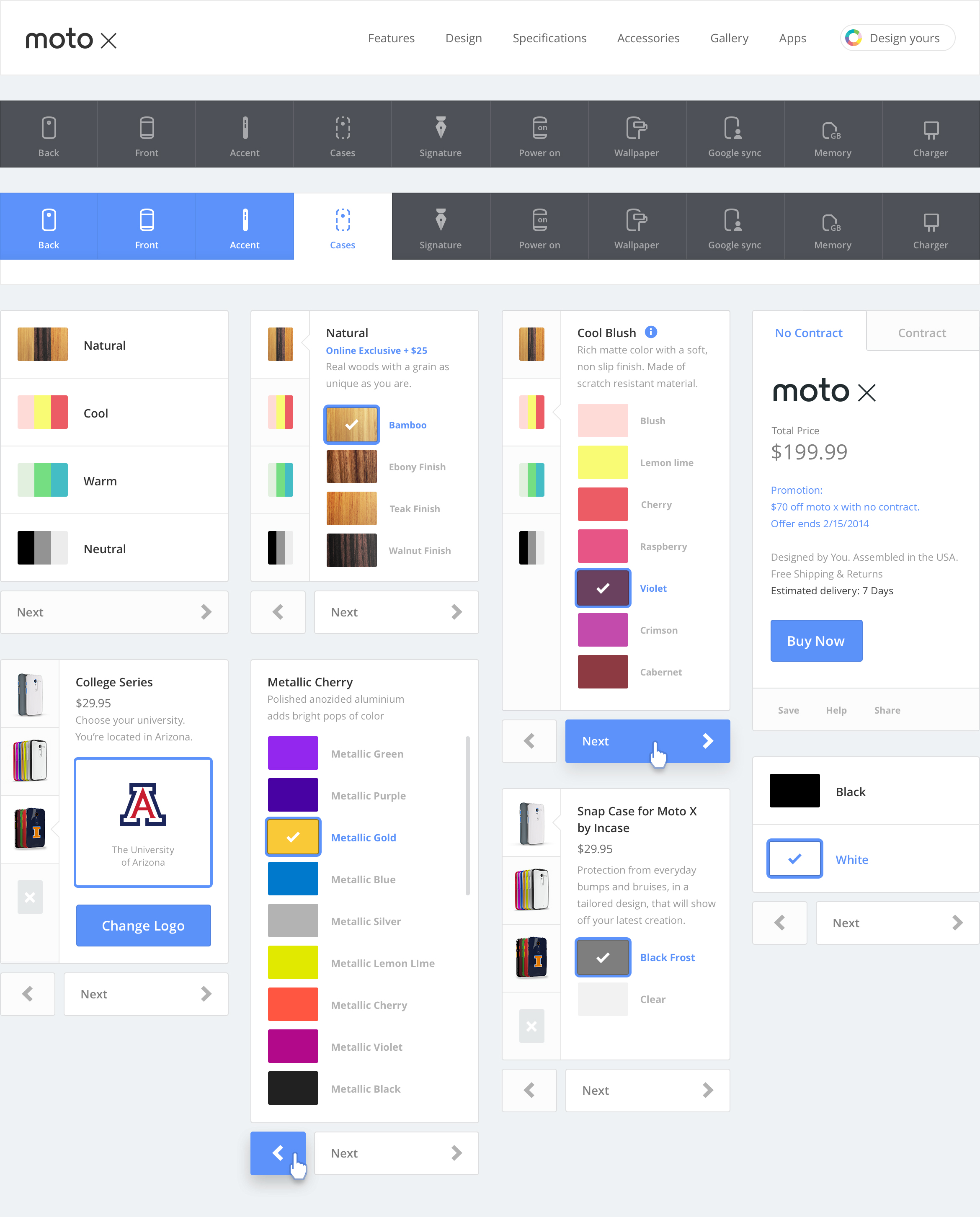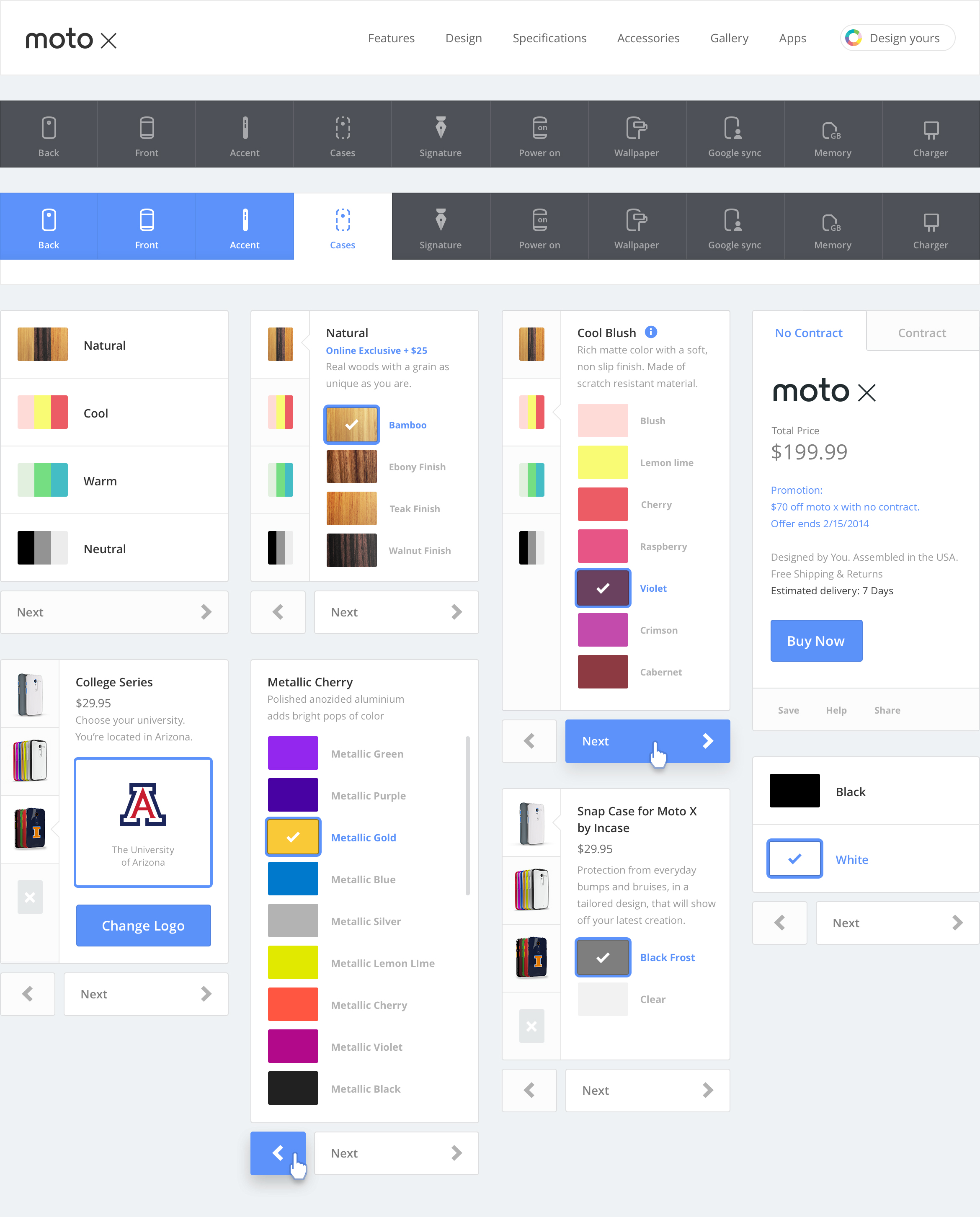 Creative Director — Diego Aguilar
Art direction, Design & UX — Thomas Dudon
UX — Artin Kiassati
Designer — Rachael Blumenfeld
[unex_ce_button id="content_s9x9nt2ba,column_content_s59q96cpe" button_text_color="#ffffff" button_font="regular" button_font_size="60px" button_width="auto" button_alignment="left" button_text_spacing="0px" button_bg_color="transparent" button_padding="0px 0px 0px 0px" button_border_width="0px" button_border_color="transparent" button_border_radius="0px" button_text_hover_color="#ffffff" button_text_spacing_hover="0px" button_bg_hover_color="transparent" button_border_hover_color="transparent" button_link="http://www.thomasdudon.com/?work=519" button_link_type="url" button_link_target="_self" has_container="" in_column="1"]Adobe Offsite[/ce_button]
[unex_ce_button id="content_s9x9nt2ba,column_content_vusngbjgn" button_text_color="#908f92" button_font="regular" button_font_size="60px" button_width="auto" button_alignment="left" button_text_spacing="0px" button_bg_color="transparent" button_padding="0px 0px 0px 0px" button_border_width="0px" button_border_color="transparent" button_border_radius="0px" button_text_hover_color="#ffffff" button_text_spacing_hover="0px" button_bg_hover_color="transparent" button_border_hover_color="transparent" button_link="http://www.thomasdudon.com" button_link_type="url" button_link_target="_self" has_container="" in_column="1"]View all[/ce_button]