In 2014, Spotify compiled data from over 50 million users to reveal the most popular musical artists of the year. Additionally, the music streaming service captured listeners' connections between songs from their playlist history and moments experienced throughout the same year.

The project received many awards, including a One Show Gold Pencil, Webby & Clio Winner, and was featured in the 2015 Creative Review Annual.

Art Direction, Design & UX — Razorfish, 2014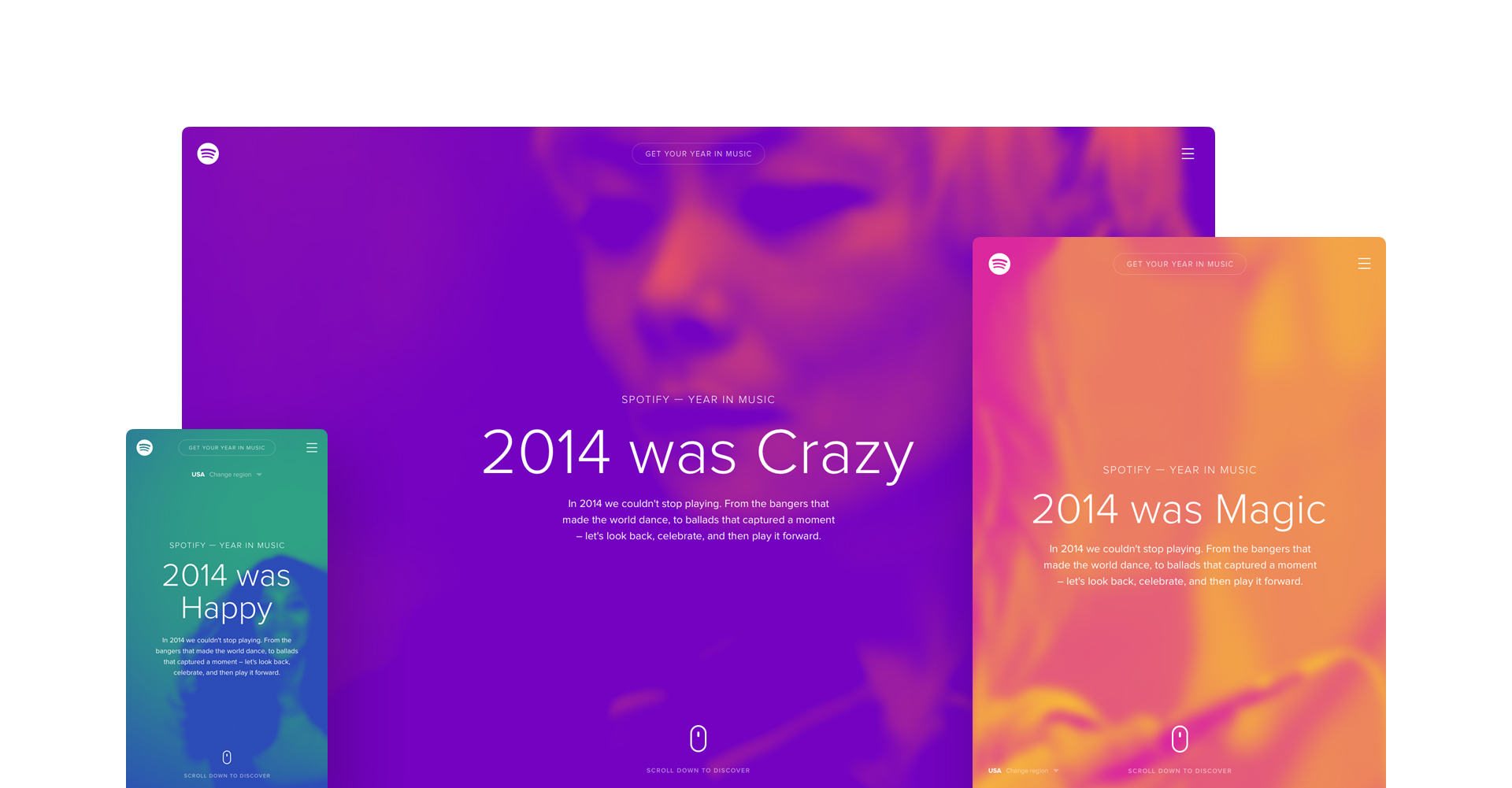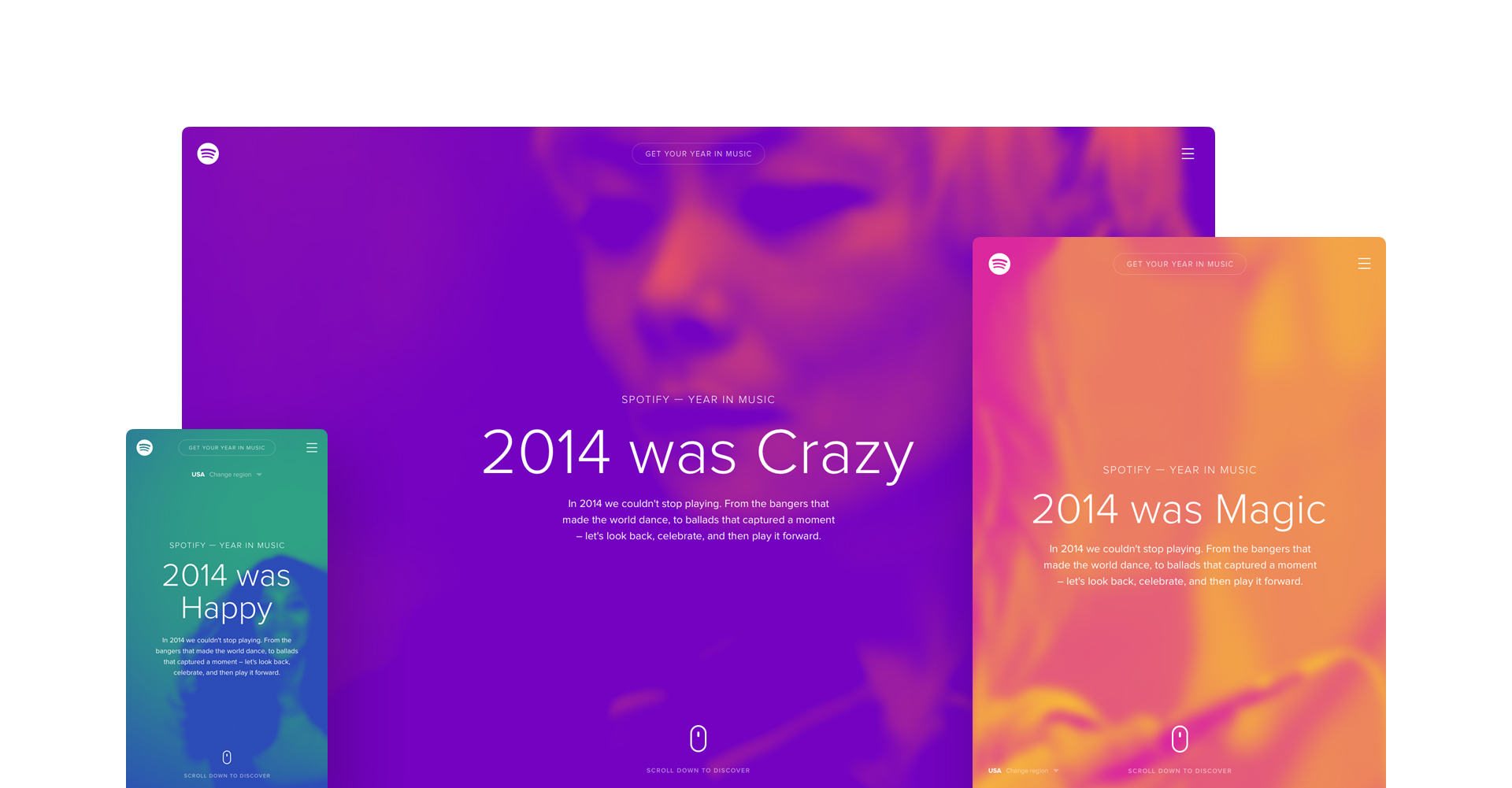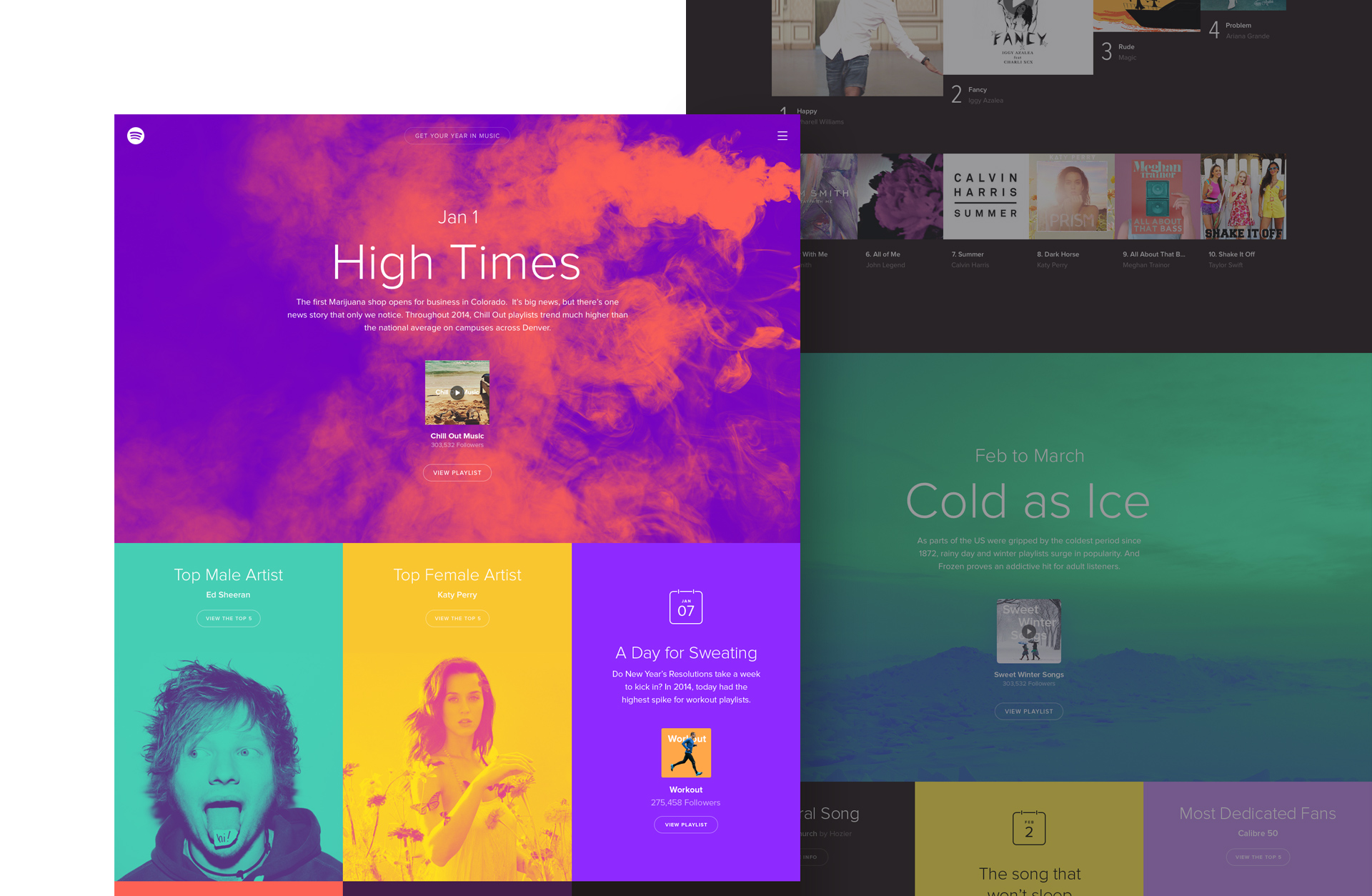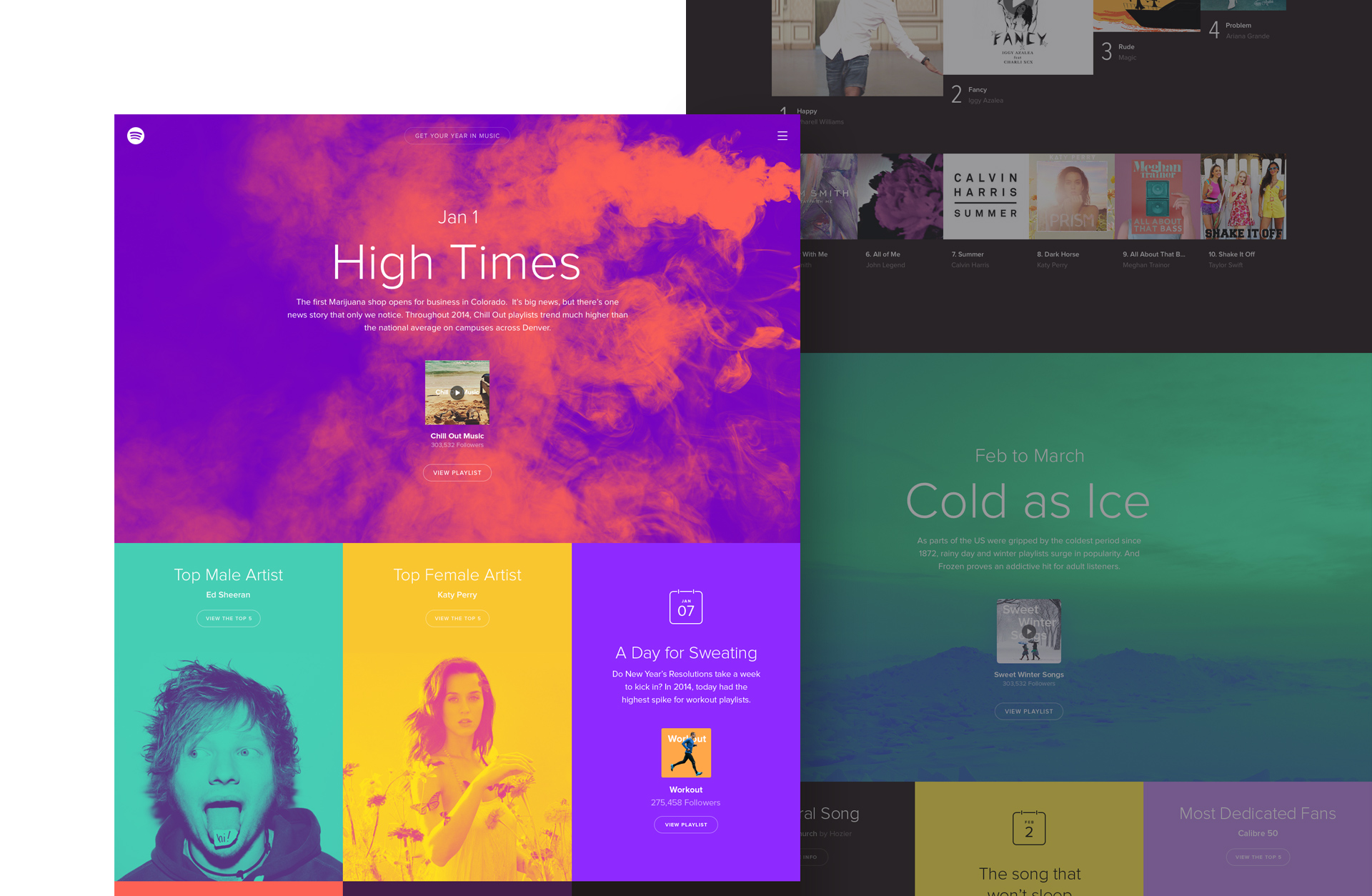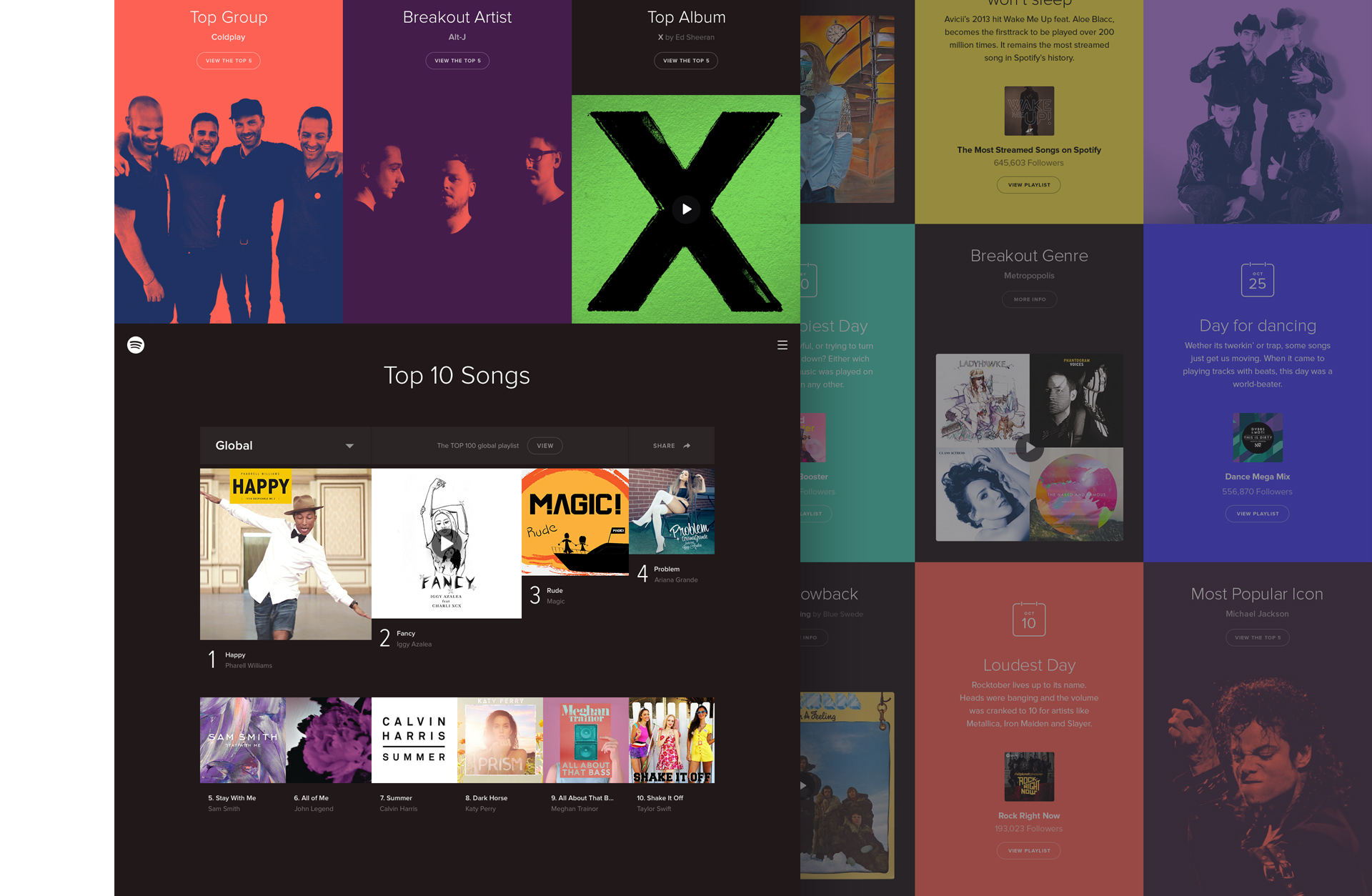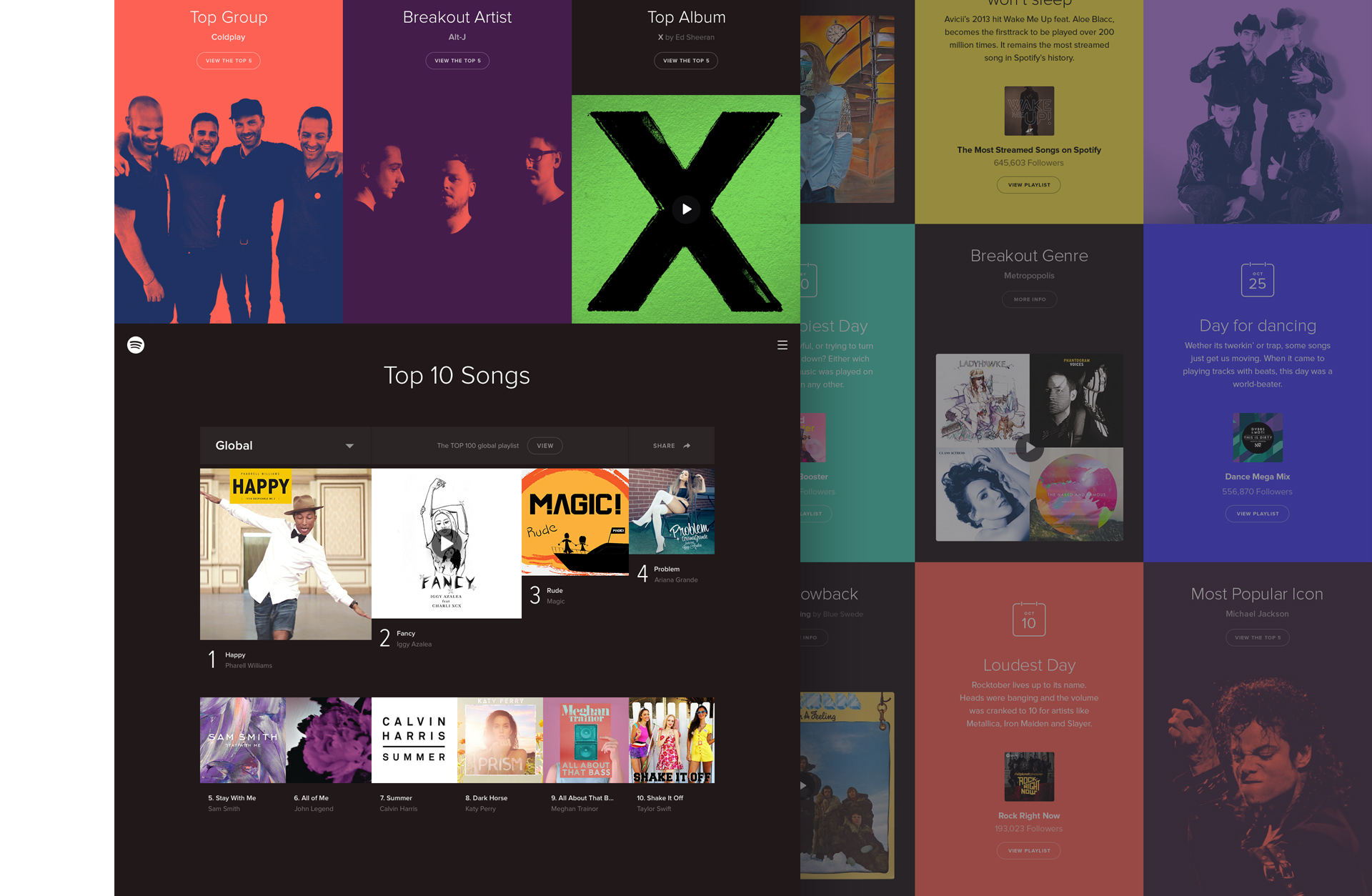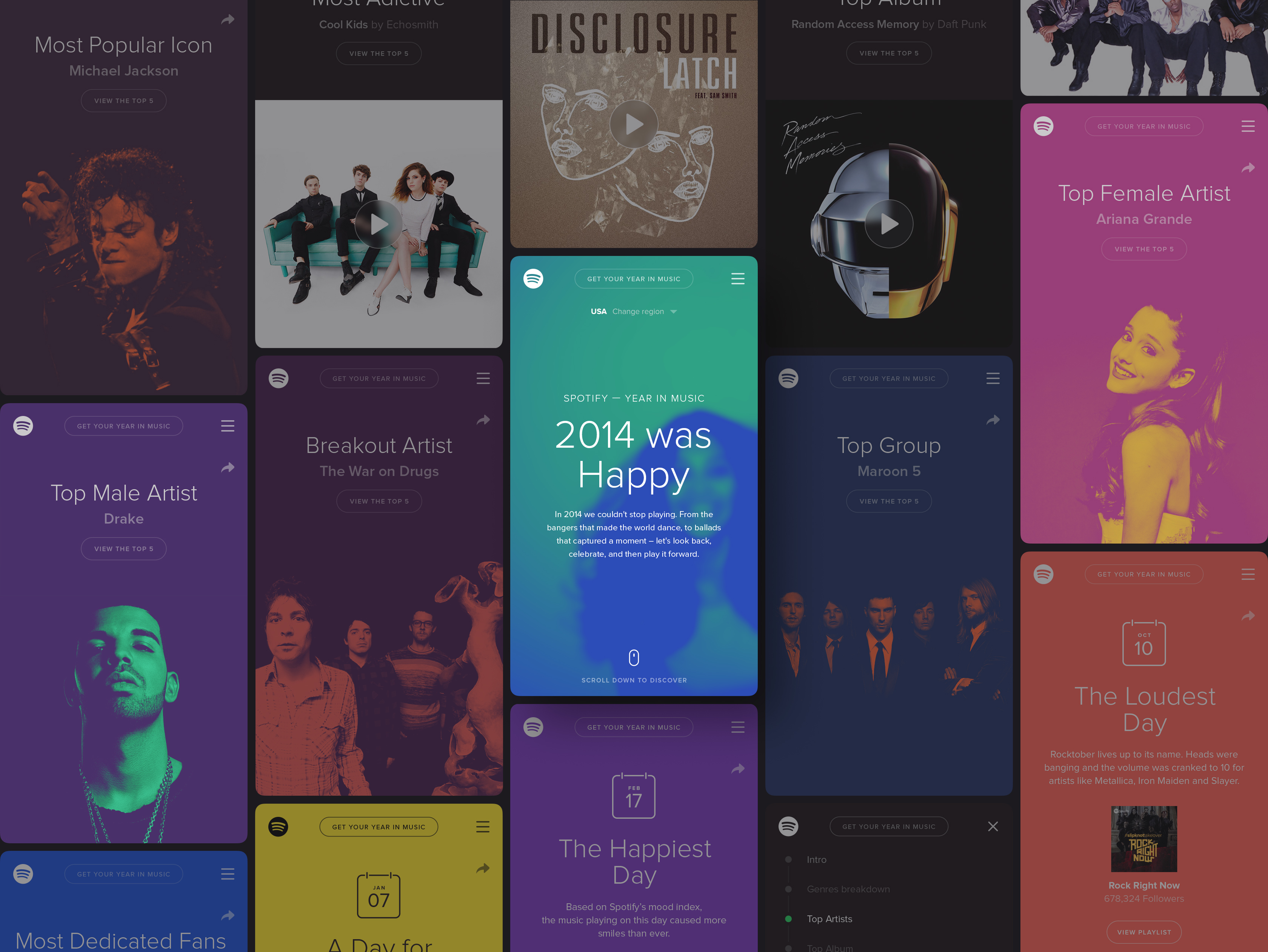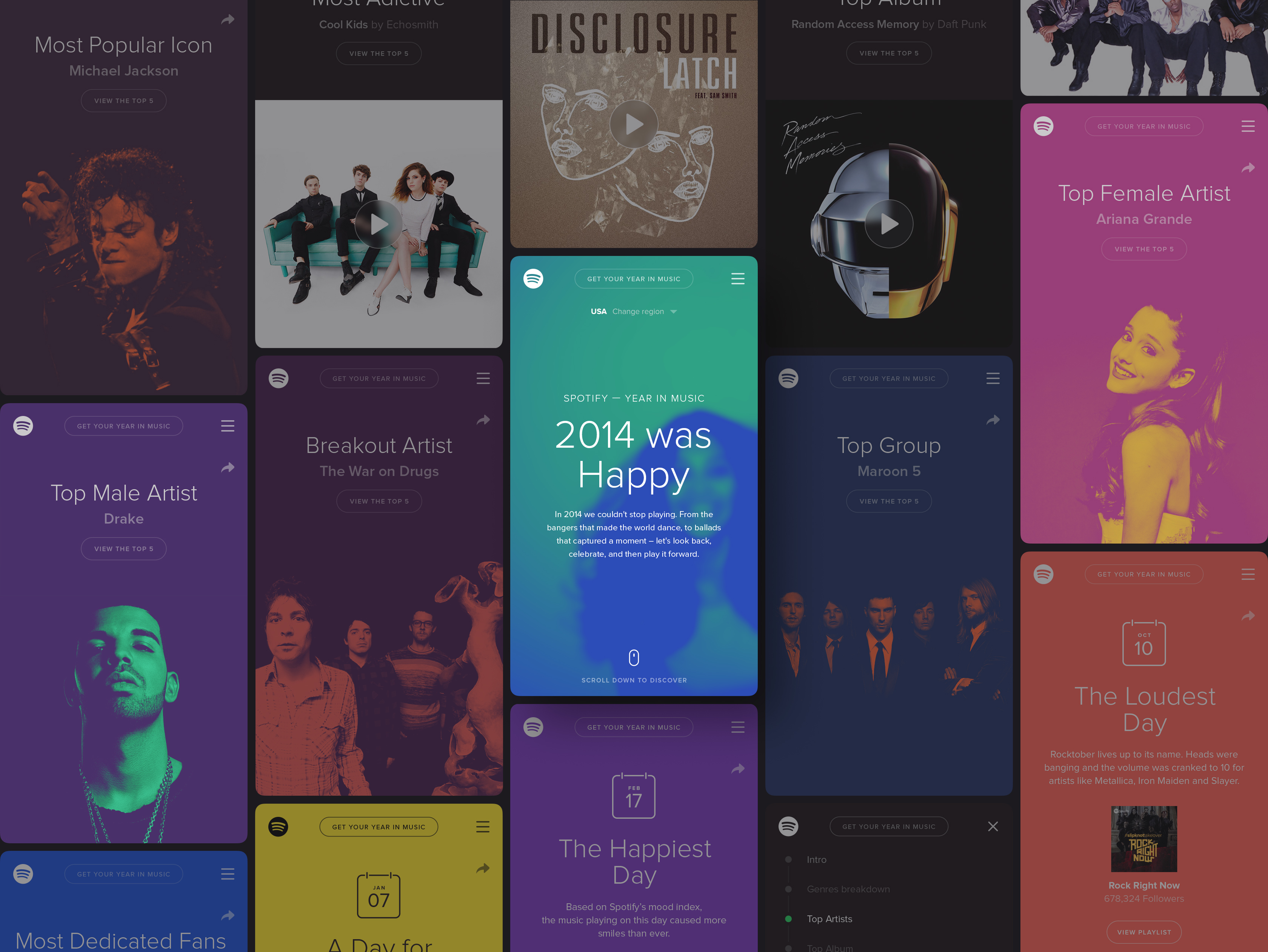 Users could review their own year in music and filter down to more specific genre. As a discovery mechanism, the site also offered a personalized playlist of new undiscovered songs based on listeners' personal taste.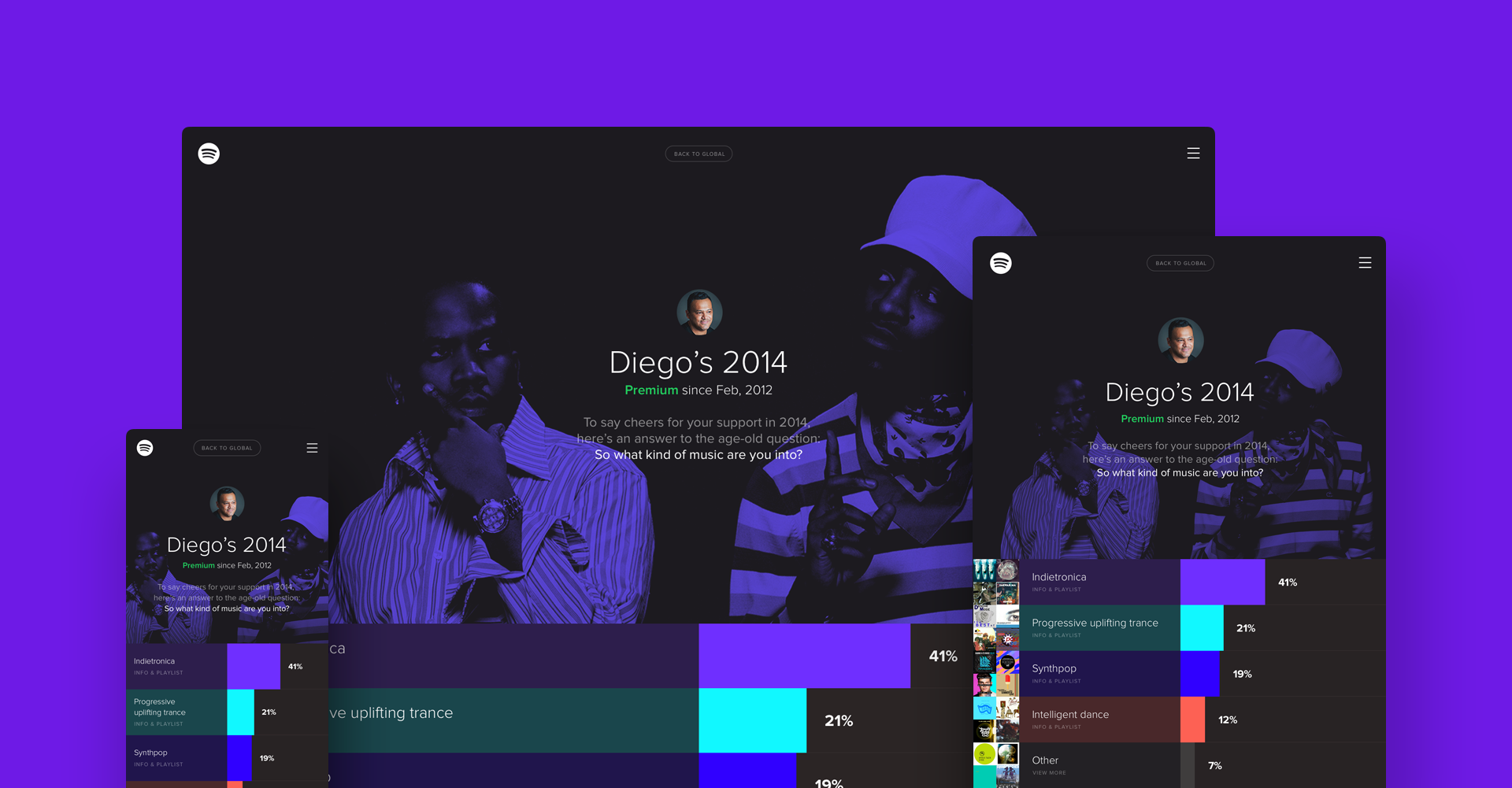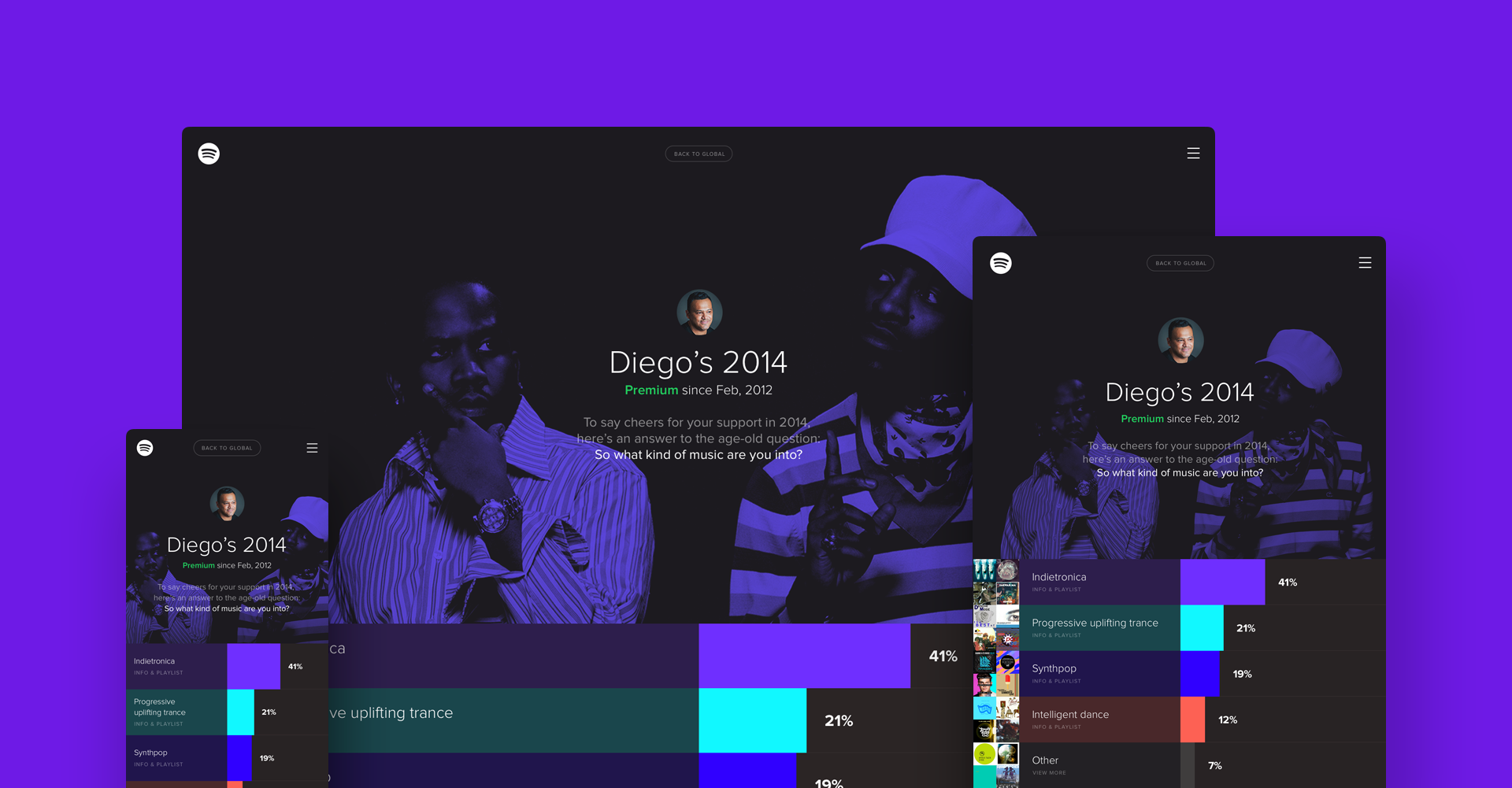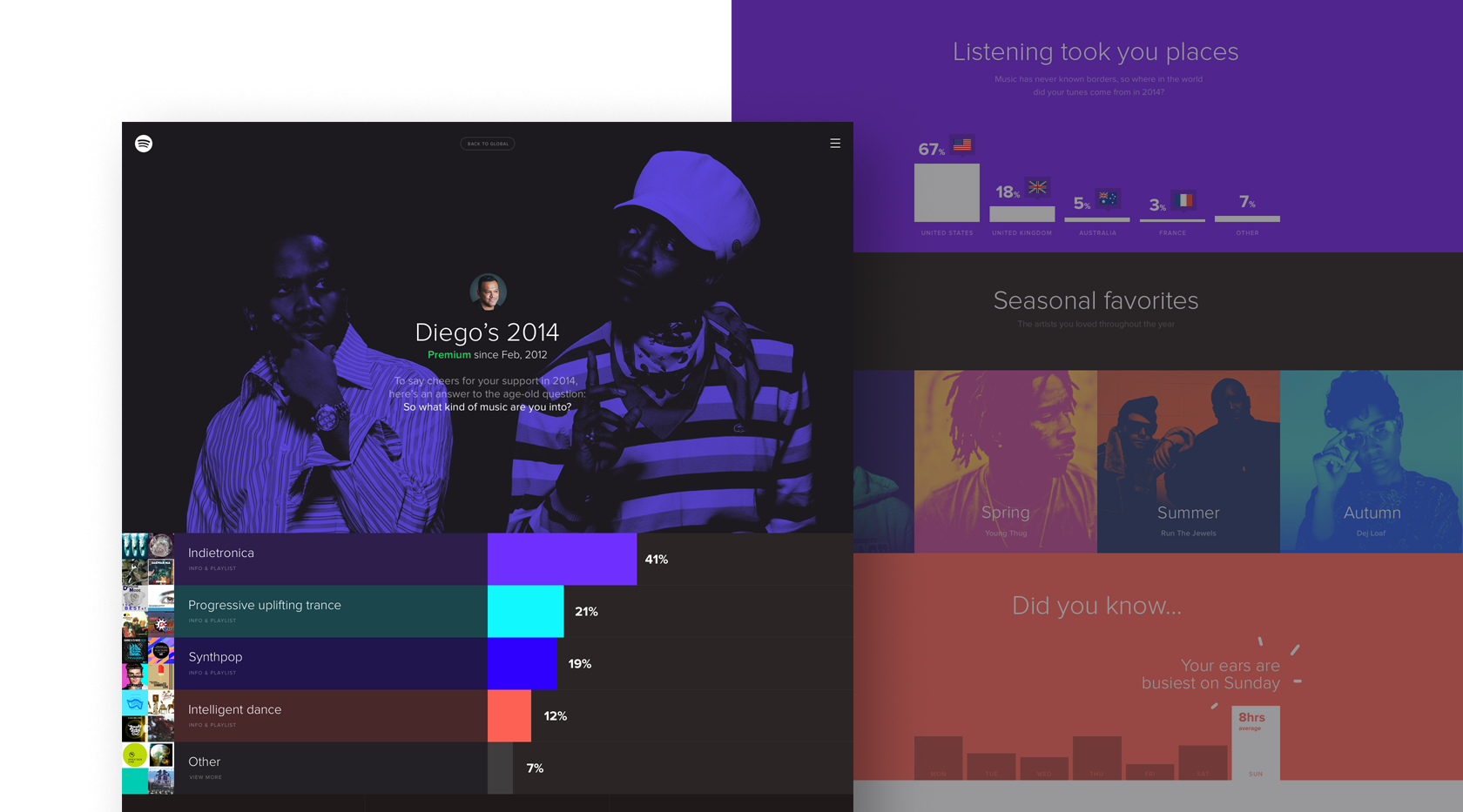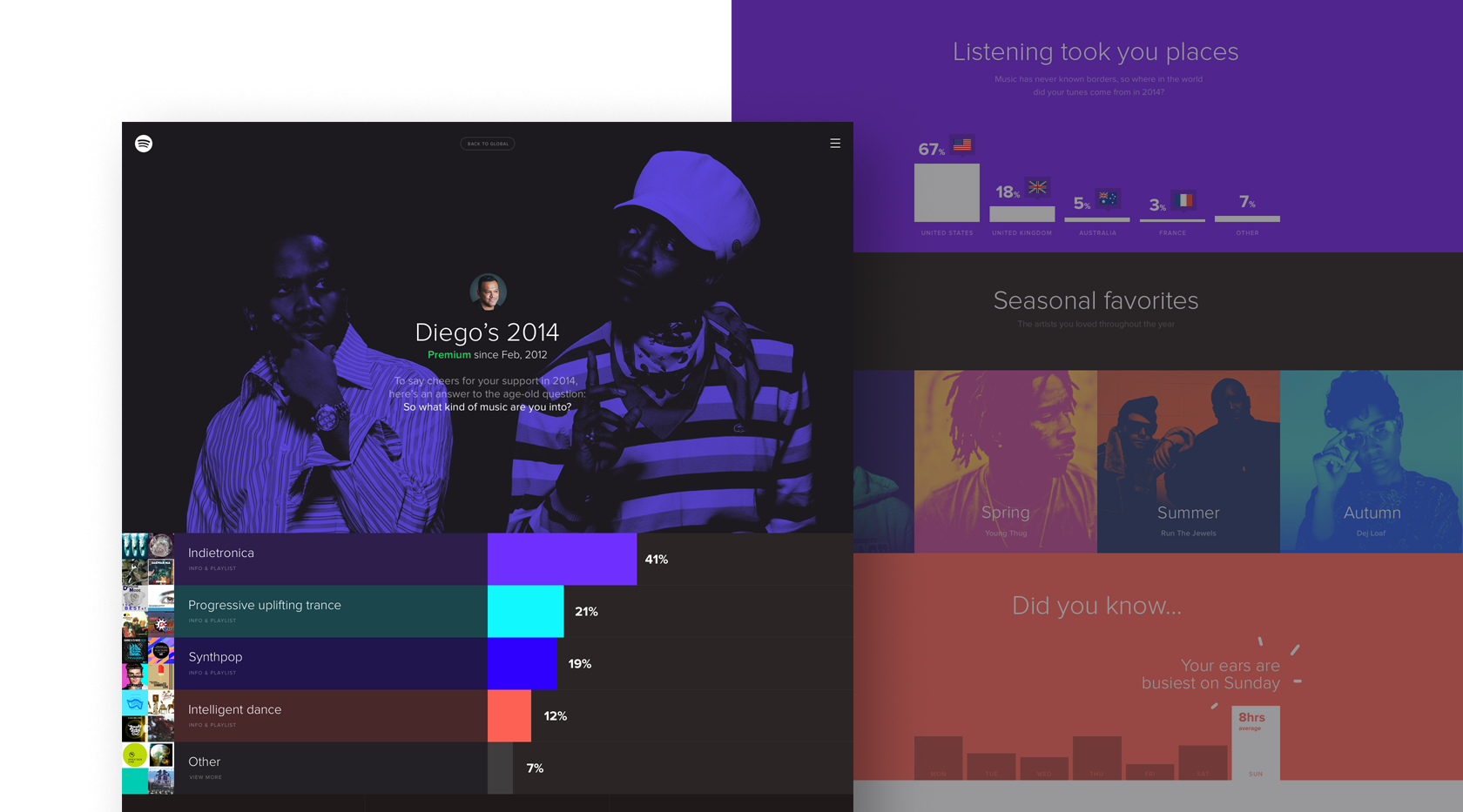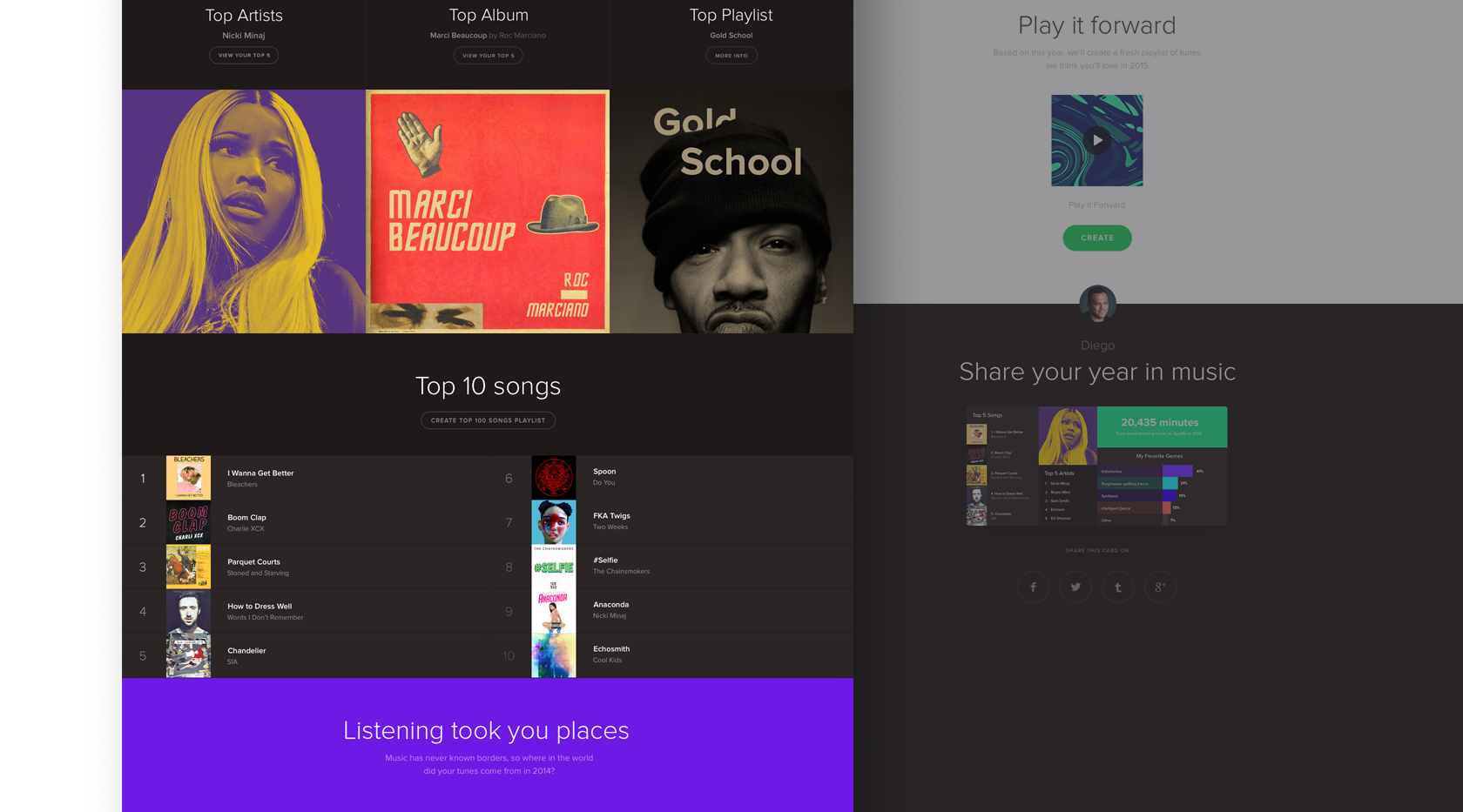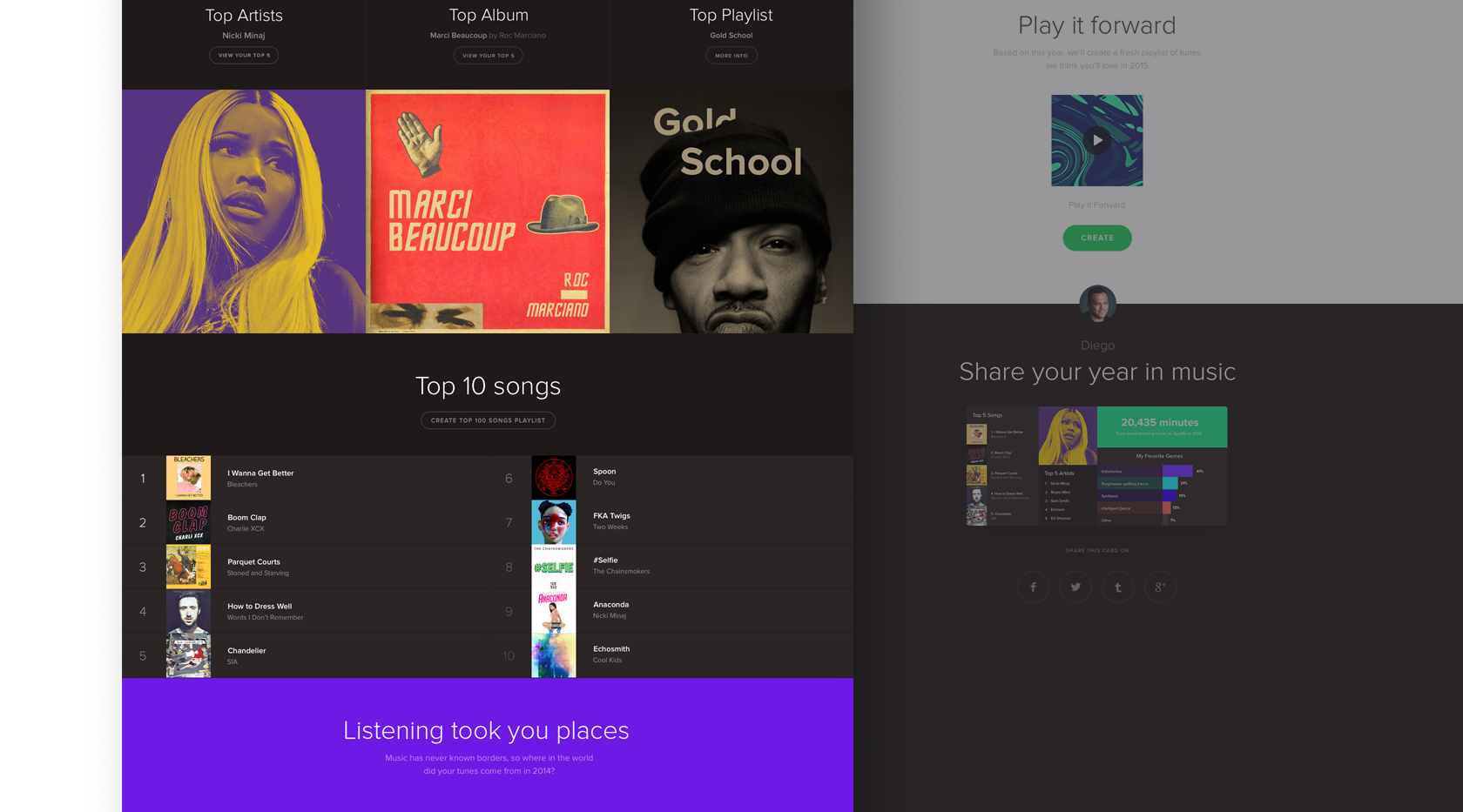 Group Creative Director — Alex Bodman
Creative Director — Diego Aguilar
Art Direction, Design & UX — Thomas Dudon
Copywriter — Hunter Simms
Dev — Chad Drobish
UX — Talia Fisher
The One Show - UX / UI Data & Human Experience - Gold Pencil
The Clio Awards - Music, Digital/Social - Silver
The Clio Awards - Music, Innovative - Bronze
Mashies - Best Global Campaign - Winner
London International Awards - Digital, Sites - Silver
The Webby Awards - Media & Entertainment - Winner
OMMA Awards - Online Advertising Creativity: Viral Campaign
OMMA Awards - Web Site Excellence: Entertainment
Creative Review Annual 2015 - Featured Project
FWA - Site of the Day
aWWWards - Site of the Day
CSS Awards - Site of the Day
[unex_ce_button id="content_xu2fsvcb4,column_content_s59q96cpe" button_text_color="#ffffff" button_font="regular" button_font_size="60px" button_width="auto" button_alignment="left" button_text_spacing="0px" button_bg_color="transparent" button_padding="0px 0px 0px 0px" button_border_width="0px" button_border_color="transparent" button_border_radius="0px" button_text_hover_color="#ffffff" button_text_spacing_hover="0px" button_bg_hover_color="transparent" button_border_hover_color="transparent" button_link="http://www.thomasdudon.com/?work=moromaker-v1-1" button_link_type="url" button_link_target="_self" has_container="" in_column="1"]Motomaker[/ce_button]
[unex_ce_button id="content_xu2fsvcb4,column_content_vusngbjgn" button_text_color="#7d7c7e" button_font="regular" button_font_size="60px" button_width="auto" button_alignment="left" button_text_spacing="0px" button_bg_color="transparent" button_padding="0px 0px 0px 0px" button_border_width="0px" button_border_color="transparent" button_border_radius="0px" button_text_hover_color="#ffffff" button_text_spacing_hover="0px" button_bg_hover_color="transparent" button_border_hover_color="transparent" button_link="http://www.thomasdudon.com" button_link_type="url" button_link_target="_self" has_container="" in_column="1"]View all[/ce_button]